Hub and I sat down and watched this last night.  We have lived in Maiduguri, from where Boko Haram started, and have watched and prayed in horror and dismay at the horrific things that are going on.  We wanted to see what line the documentary took, and whether it would shed fresh light on what is going on, and why the Nigerian government seems to be doing so little.
The programme was mainly about the Chibok schoolgirls who have been released.  Only half – the rest are still in captivity, and they are only a fraction of the hundreds of men, women, and children who are captured by BH on a frequent basis.
The released Chibok girls had been taken to the capital, Abuja, hundreds of miles away from homes and families, because they were so frightened of going out, and did not feel safe close to BH  territory.  They were kept in an armed compound, where they seemed to be well-fed, well-dressed, educated and reasonably comfortable.
They were told that they were not allowed to talk to the BBC about their experiences in the Sambisa forest where they had been imprisoned.  It was loudly explained, by an educated woman evidently used to power, that it was not good for the girls to dwell on the past, and it was not safe for Boko Haram to learn that 'all their secrets' were being told.  It was all clearly set up for the cameras, with the Nigerian government calling the shots.
One extraordinary scene had the Principal of the American University in Nigeria talking to the girls at a stilted banquet laid on for them when their families came to visit.  He told them loudly that they would be having a good education.  He beat-boxed, ordering them to say 'N' every time he said 'AU'.
Afterwards the girls said they hadn't understood his American English, and they had no idea what was going on, except the implication that they would all be going to AUN when they were released from their safe compound.
When that time came, they were given mobile phones and laptops, and taken in air-conditioned buses to the university, where they were only allowed to see the girls from their school who had escaped from BH and had been at the AUN for 2 years.  There was no explanation as to why.
Hub's and my questions came thick and fast.  Why was the Nigerian government paying for all this?  Where was the money coming from?  The university website puts fees at around £6,000 sterling per student per academic year.  The website's home page also features a row of white people grinning at the camera, with a couple of Nigerians.  And, the biggest question of all, why is the government apparently doing nothing for the hundreds of girls still in captivity?  They claim in an interview that 'negotiations are ongoing.'
Really?  Contrasting with all this hype (that's how it felt) was the story of Muslim Habiba, who had managed to escape captivity when her guard fell asleep.  With two friends they ran into the forest.  Her two friends died en route back to Maiduguri, but she made it, crawling, weak with hunger and thirst.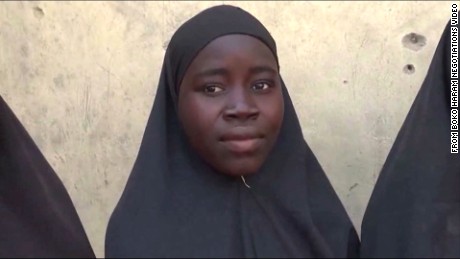 At what cost?  She had been forced into marriage.  Her 'husband' had left her with HIV and pregnant, and her little boy had HIV too.  He died during the making of the film.  She is living on the breadline, but had come across two traumatised boys who had witnessed the murder of their parents.  She took them under her wing when the youngest boy called her 'Mama', and they live together as a family.
She told chilling stories of what happened in the camp, including the gang-rape of a 14-year-old girl.  Her eyes are haunted by what happened.  She said she would never forget it, nor get over the guilt of not being able to help her.  The girl died two days later.
I did not sleep much after this.  Over and over again throughout the night my mind filled with Habiba, her terrible grief, her dignity, her love for the boys, her trauma, the horror of the death of the girl, the screams of fear and pain that Habiba and the other girls had witnessed.  I wanted to do something, go there, find her, help her, take her and her family somewhere safe, give education to the little boy who wants to be a doctor, even just find them a football.  Everything.
(image from cnn)